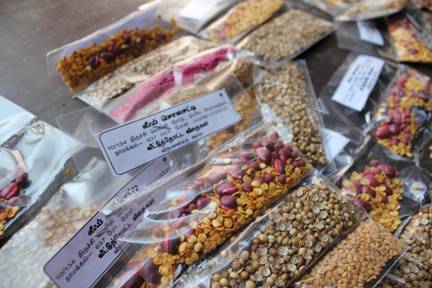 Venba is the brand, has been exclusively created to brand & market our products – which is being produced by the people, those, who have been trained by LEAF Society. These are the products has it's own values as the brand name venba stands for. Under this brand, we are marketing different products, like readymade garments, in skirts, shirts, petty cote, candles, handicrafts, phenyl, scented sticks, decorative items, etc.
We are training our group members in different trades, trying to link them with financial institutions for capital requirements and we are also outsourcing marketing opportunities for our brands… which are the toughest task at the moment…..
Venba means a sonnet. LEAF Society, has, chosen to keep the name venba because, the value it has for ' Thirukkural' an acclaimed Tamil sonnet. This sonnet has only two lines and has high value to each of them. Like Thirukkural… we are bringing specific values for our products, and this means lot to our rural people. It has been produced at villages, ensuring quality, care & concern. The profit margin out of this has direct impact on the vulnerable families on their investments on their children's health, education and basic amenities…..
If, you are interested in buying, please write to us or if, want to have any trade enquiry, please contact us immediately.