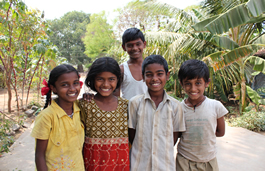 Leadership through Education and Action Foundation – LEAF Society – a not for profit voluntary Organization, registered under Tamilnadu Societies Registration act 1975, bearing registration no: 85/2004 registered with district registrar of Namakkal. We also have our Permanent Account Number and  FCRA registration of Government of India. We have our audited statements of accounts for past five years and annual reports of our activities. LEAF Society strongly believes in development than charity and we have strong faith in local people's capacity and potential to deal with their own issues, if their leadership skills have been facilitated in a right perspective. LEAF Society is currently implementing water & sanitation, Right to Information, Income Generation & Right's based education projects at Namakkal, Rasipuram & Kolli hills of Namakkal district of Tamilnadu, India. LEAF society is a different breed of organisation aiming to achieve highest level of transparency among civil society organisations, promoting a culture of openness, transparency and accountability among it's peers. All our budget, assets, salary details and project expenses are posted in our notice board, which can be seen and verified by our staff, communities, stakeholders and visitors. We have set high standard for ourselves, thriving to achieve maximum results out of minimum inputs.
At present we are being funded by www.arghyam.org for water & sanitation project and http://ansa-sar.org ANSA – SAR for Right to Information project. LEAF aims to achieve highest level of participation from local communities, make them believe in what they have, educate them to improve their educational, economical and social status and give the best to their children & communities.
We are working with fourty most deserving villages of Namakkal district of Tamilnadu on promotion of safe sanitation & drinking water practices, personal hygiene, solid & liquid waste management's, home hygiene and environmental sanitation. Prior promoting hardware of constructing toilets, we have pledged to bring an attitudinal shift & behavioural change towards safe sanitation & drinking water practice through various innovative campaigns for rural communities. We have designed culturally acceptable shows, localised street theatres, media campaigns, IEC materials, etc. Since, we are working with evening joyful learning centres in 30 villages; we have also designed memory game based on safe sanitation practices, personal hygiene train game, snake & ladder game on healthy living for children.
Organization Vision
"LEAF Society strives to create equal opportunities for the marginalized and vulnerable communities by bringing them together, recognizing their leadership potential and helping them realise their economic, social and political rights, thus, bringing about positive and long-lasting changes in their lives."
Our Principles
LEAF Society believes in imparting practical education to Children rather than just teach them the curriculum. We are not interested in running parallel education streams instead support the children to achieve highest level of self esteem & standard and nurture them to be a good citizen of our country
LEAF strategically aims to achieve sustainability in all initiatives by promoting local leadership, inculcating the values of ownership, sharing and mutual cooperation. We aim that the participation by the stake holders will ensure maximum transparency and accountability in all our interventions.
We are on the path of reducing the incidence of poverty; create accessibility to various Govt. interventions, ensuring the local knowledge, wisdom of local communities are preserved and protected and their food security is sustained.
We believe in promoting self sustainability & self reliance to ensure the dignified livelihoods of stake holders by promoting various innovative employment opportunities and techniques.
LEAF will protect the local knowledge on various farming techniques; promote organic farming, preserve the local traditional methods on herbs & medicinal practices, etc. We will protect the interest of the most vulnerable & marginalized farmers, landless agricultural workers, un organized laborers, etc.
Guiding principle
We believe local knowledge is the best way to drive towards addressing their own issues and their participation will bring highest level of transparency and accountability.
LEAF strongly believes in local people's capacity and potential to deal with their own issues, therefore, the organisation works as a facilitator to empower communities. The organisation strategically aims to achieve sustainability in all its initiatives by promoting local leadership, inculcating values of ownership, sharing and mutual cooperation among the target group.
We are presently implementing four projects,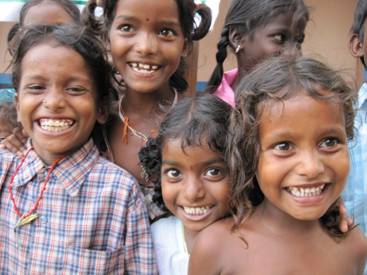 promotion of safe sanitation and drinking water practices
increasing people's negotiating skills using the Right to Information Act
promotion of life-skill oriented education among children
creating livelihood opportunities for women and young people
LEAF Society is also part of the CRIN network (Child Rights Information Network) for children and Social Accountability Network of ANSA SAR (Affiliated Network of Social Accountability South Asia Region funded by World Bank Institute).  LEAF currently has nine full-time staff, 25 part-time staff and 10 volunteers.